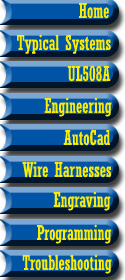 Lighthouse recognizes the customers needs in engineering,
performance and craftsmanship.
The engraving department at Lighthouse Electric Controls Co., Inc. (LEC) utilizes a Xenetech USA, Inc.® Model 25X25 Computerized Engraving System, which allows for the import of files such as: company logos, clip art, symbols, drawings, etc. Typically, these files are either *.bmp or *.jpg file formats, with the exception of drawings (*.dxf or *.dwg). This import feature allows for a vast array of customer choices and styles.
Engraving features:
Engraved Materials: Plastic, aluminum, brass, stainless steel

Fabricated Materials: Plastic, aluminum, brass, carbon steel

Two-ply material using either Front or Reverse engraving
Please let LEC assist with your next engraving requirements